Journal of Political Risk, Vol. 7, No. 1, January 2019
By Arthur Waldron, Ph.D.
Taiwan is never to be taken for granted. We really have to get one thing straight, which is that without Chiang Kai-shek (CKS), his mainlander army, and even aspects of his dictatorship, the free Taiwan that we love today simply would not exist. Its natural leaders, both from the Democratic Progressive Party (DPP) and Kuomintang (KMT), would either be long dead or in prison, while its young people, now among the best educated in the world, would be memorizing idiocies from the imperial thoughts of Xi Jinping.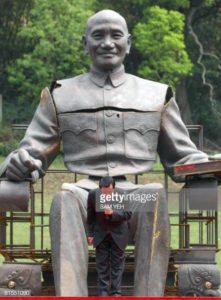 That citizens vilify CKS is a disgrace at a time when the People's Republic of China (PRC) is behaving in a far more menacing way than ever before, and so well armed that the American "experts" who once dismissed the threat as paranoia and rationalization for dictatorship, are now hemming and hawing about how it may be impossible to save Taiwan. CKS saved Taiwan from the Chinese Communist Party (CCP) at a time when no one else would or could have, and when rapid collapse was assumed by all the governments of the world.
Continue reading